[After a hiatus, our Bike Science column is back. Below, carbon fiber master and engineer Shawn Small shares the science behind one of his recent projects.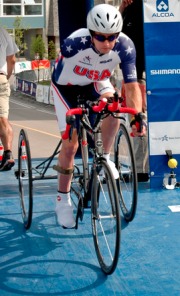 Steven Peace at start line of 2010
UCI Para-cycling Road World Championships.
(Photo:
Joy Anderson
)
Steven Peace was a Lieutenant Commander in the Navy in his early 30s when he suffered a massive stroke while lying alone one night in his apartment. He was found 14 hours later when EMT's broke down his door. When he came to, he was paralyzed on his right side and suffered from severe aphasia.
Only 6 months after leaving the hospital Steven quickly defied all odds by riding a Catrike Trail (recumbent) in the
Soldier Ride
which goes from Phoenix, AZ to Las Vegas, NV. Here's how Steven described that first ride; "..the ride was unbelievable, and life-changing. After the first ride, I knew I had to do another m
ore read...